Employee advocacy has been one of the most trendy buzzwords in human resources, marketing and sales over the past few years. Despite its growing popularity, a majority of brands have yet to truly activate employees as marketing, sales or recruiting assets.
Although the concept of employee advocacy has been around for decades in various forms, the internet and social media have revolutionized it and added new possibilities. With all these changes, brands have to rethink the way they approach advocacy and how employees fit into the company.
Whether you're completely new to employee advocacy or part of the 31% of high growth firms that already have a formal plan in place, we've packaged all the information you need into this guide. We'll answer basic questions like what is employee advocacy, dive into tips and tactics to improve your chances of success and much more.
Check out a personalized demo of Bambu, focused on gaining exposure to new, qualified audiences by connecting your brand with the social networks of your employees.
Click on any of the links below to jump to each section, or dive in from the beginning.
So What Is Employee Advocacy?
At its core, employee advocacy is the promotion of an organization by its staff members. An employee advocate is someone who:
Generates positive exposure and raises awareness for a brand through digital media or offline channels
Recommends a company's products or services to a friend or family member
Represents the best interests of the company both internally and externally
Can help build employee ownership of the organization
Is an expert on your product or service and can be a credible spokesperson for your company
Types of Employee Advocacy
There are several ways for employees to advocate for your brand. You may have used some of these tactics without even realizing you were turning your team into loyal brand advocates.
Here are some common types of employee advocacy you can use to turn your team into your biggest supporters:
Social Media Employee Advocacy
Social media completely changed the way brands utilize employee advocacy. While some of the older tactics like incentivizing and giving away swag still work, the reality is brands need to incorporate social into the equation.
Your customers spend a lot of their free time on Facebook, Twitter, Instagram and other social networks, so it's the prime place to get in front of them. In fact, when you add it up, the average person spends over an hour a day on various platforms.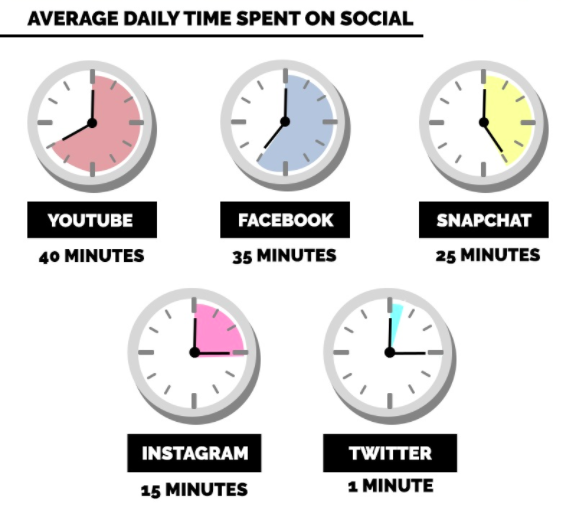 Capturing that attention can be more difficult for brands than individuals. So getting your employees to share articles from your blog, pictures around the office or other types of content can significantly improve your reach. We'll dive more into how and why this works in the next few sections.
Incentives & Recognition
People crave recognition. Taking the time to recognize employees who perform well can also be extremely beneficial for business.
A recent study found that 72% of businesses said recognition given for high performers within a workplace had a significant impact on employee engagement.
This can be done easily by starting an "employee of the month" program or listing top employees in a monthly newsletter column. Time can be set aside in team meetings to recognize certain employees for their hard work or accomplishments. Public commendation of employees is great way to recognize hard work, and a surefire method to create employee advocates.
Financial media company Motley Fool made it a policy for every day to be employee appreciation day. And when one of their team members was called out as one of the most recognized employees on the YouEarnedIt platform, they highlighted the achievement in a blog post.
Swag
You may have seen people joke about startups slapping their logos on t-shirts for employees. However, swag is an old school employee advocacy tactic that still works today.
Giving employees free shirts, keychains or other usable items provides people with a way to show off your brand without too much effort on their end. Any time employees wear a t-shirt or uses a water bottle, they are advocating on behalf of your brand.
The Benefits of Employee Advocacy
Some brands will look at employee advocacy and wonder whether or not it's worth the investment. But the reality is with the hiring market becoming increasingly competitive and changes to the way consumers shop, focusing on employee advocacy is more important than ever.
In many ways, employee advocacy is like social media marketing. In 2017, the thought of not having a presence on Facebook or Instagram seems ridiculous.
But just three to five years ago, a lot of brands doubted the benefits and value of social media. Instead, they opted to stick to the "old ways" of doing things, despite the fact that social media has been shown to be more cost effective.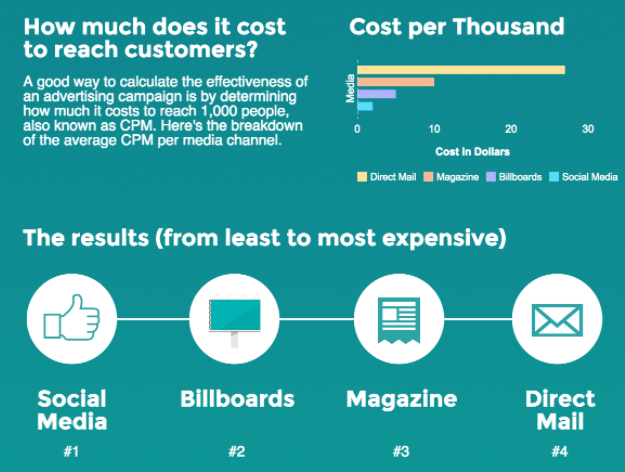 Today, some of the most successful brands in the world invest heavily into social media. Many of those same brands started to invest in employee advocacy programs as well. This isn't just a coincidence.
Employee advocacy is still in the early stages, and the brands that jump on board right now are the ones that will reap the long term benefits. In addition to being an early adopter, here's a look at some of the benefits of employee advocacy:
Increase Your Reach on Social
Organic reach on social media has dwindled down considerably over the past few years. SocialFlow analyzed the organic reach of 3,000 Facebook pages that reach an average of 600 million users a year. They found organic reach from these publishers dropped a whopping 42% per post between January and May of 2016.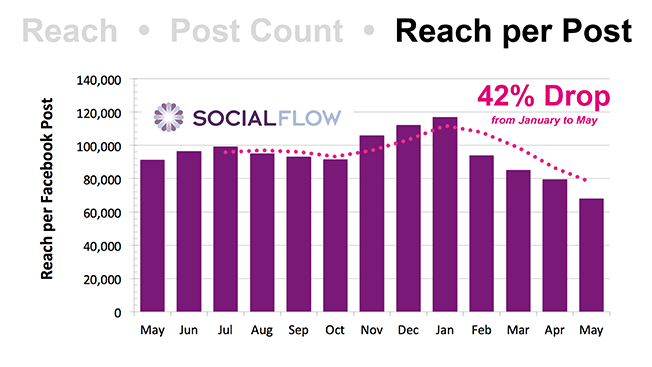 This shift has led many brands to start allocating more money toward social media ads and boosting posts to push their reach up. However, employee engagement could be a more cost-effective solution to organically increase your reach.
Let's say a company of 100 employees has 2,000 fans of their Facebook business page. Their potential total reach is 2,000. Now if every employee in that company had an average of 338 friends on Facebook, the total reach of all the employees combined is 33,800. This calculates to a 1,590% increase in reach. By utilizing your employees' social media networks, you have the ability to reach a much larger audience and have your message be seen by exponentially more people.
On top of just the number of people employees can reach, they also provide more value. Cisco noted that employees' social posts generate eight times more engagement than posts from their employers.
The reason it works is because people trust content and recommendations from people they know more than marketing messages from companies. In fact, people are 16 times more likely to read a post from a friend about a brand than from the brand itself.
If your posts aren't getting the organic reach or engagement you'd like, employee advocacy could be what you need to fill in the gaps.
Improve Company Culture & Retention
Culture is more than just a buzzword used to attract millennial and Gen-Z employees.
Twenty years ago, company culture was hardly talked about. For the most part, employee retention was all about compensation, benefits and general happiness within a specific role.
Fast forward to today, and the story is much different. Company culture is a priority for both employees and employers. In fact, 80% of businesses plan to improve their corporate culture in 2017.
Companies work hard to attract top talent and good company culture can be a strong differentiator for your brand. This is so relevant that 10% of employers alter their culture to attract the millennial workforce. Plus 18% percent of employees say corporate culture would increase their loyalty and engagement with a company.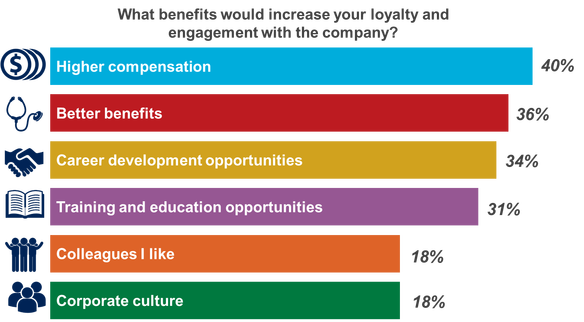 Increase Your Bottom Line
Employee advocacy doesn't just boost morale around the office. It can also increase your company's bottom line.
According to data from Hinge Research Institute and Social Media Today, almost 64% of companies with formal employee advocacy programs credit advocacy with attracting new business. Additionally, 45% attribute new revenue streams to employee advocacy.
Your employees are often your best salespeople (even if they're not in sales). They have more influence over the products and services their friends and family buy than any piece of marketing material you can come up with.
A report from Ogilvy, Google and TNS found that word of mouth was the top point of influence for buyers.
Word of mouth (74%)
Retailers and store visits (69%)
YouTube – how-to videos, product visualization, entertainment (64%)
Twitter (61%)
Company/brand websites (59%)
Facebook (56%)
Pinterest (56%)
Newspapers and magazines (55%)
TV and movies (51%)
Search (51%)
Encourage your employees to become advocates, and your entire company could reap the financial rewards.
Important Employee Advocacy Statistics
If employee advocacy is new to you, or you're on the fence about whether or not it's worth the investment, here's some reassurance. Take a look at these statistics showcasing just how powerful and important employee advocacy is for your brand:
That's just a brief look at some of the stats to support the case for an employee advocacy program. The benefits are too great to overlook. As advocacy starts to become the "norm," these numbers will likely continue to grow.
How to Start Your Employee Advocacy Program in 6 Steps
While employee advocacy has been around for a long time, its popularity has increased considerably over the past few years. In fact, interest in employee advocacy has grown 191% since 2013, and 45% consider it to be a top external objective.
As tempted as you might be to just dive in, let's take a step back and strategize first.
Instead of trying to wing it or make up your program as you go along, we recommend creating a strategy. It'll help you stay organized and improve your chances of success. If you're not sure where to begin, here are six steps to get started:
1. Set Your Goals (What Do You Want to Accomplish?)
You're probably not setting up an employee advocacy program just because it's fun. Hopefully you want to get something out of it. Setting clear goals and KPIs will allow you to see if your efforts are actually paying off.
Here are a few common goals for employee advocacy:
Improve organic reach
Increase traffic from social media
Lower your marketing costs
Get more social shares for your blog posts
Your goals will help direct your strategy. Once you know what you want to do, it's easier to make a plan to help you get there.
2. Explain the Benefits to Your Employees
At first glance, employees might think your advocacy program is just a boring corporate mandate in disguise. That's why it's very important to add context around your program.
You need to be able to answer the question "why should I share company content on social?"
As much as you might want to think that just helping the company will be enough of a reason, that's not always the case. Showing employees how they'll benefit from becoming advocates will help them be much more enthusiastic about participating. Here are some benefits of employee advocacy for your team:
Career growth: Sharing industry related content on social can help your employees be looked at as thought leaders. For instance, Olga Andrienko is the head of global marketing at SEMrush. Olga consistently shares content from the SEMrush blog which has helped build her credibility and personal brand even more.


Yours truly was mentioned on @sejournal 😉 @JuliaEMcCoy created a list of 50 women in marketing & told the world we were amazing ☺️ awwww ❤ https://t.co/4CQ8T5lY3g

— Olga Andrienko (@Olgandrienko) March 8, 2017

Incentives: You could consider giving incentives to employees that are your top advocates. If certain employees are going above and beyond and garnering a lot of engagement, show your appreciation with a gift card, a bonus or other gifts.
Gamification: Along the same lines of incentivizing, gamifying your employee advocacy program makes it more fun and a lot less corporate. You could make a leaderboard and show metrics on who's getting the most impressions or engagement.
Your employees should participate in your advocacy program because they want to, not because they feel they have to.
3. Train Your Employees
Just telling your employees which articles you'd like them to Tweet and leaving the rest to them leaves too much room for error. If you're using an employee advocacy tool like Bambu, you'll definitely want to make sure your team is well trained on how the software works.
The better they understand how to use your software, the more likely they'll participate. The last thing you want is to confuse or frustrate employees to the point where they abandon your tool altogether.
4. Choose an Advocacy Liaison
Your employee advocacy program needs a face or point person for questions or suggestions. Depending on the size of your organization, that could be one person or a few people.
The reason it's important to attach a person to your employee advocacy program is to emphasize that advocacy is a part of your company and not a one-off gimmick. It also helps to personalize the experience. When all the communications about your advocacy program come from hr@yourcompany.com, it can feel very impersonal and generic.
Your advocacy liaison will have a few duties:
Spread the word about the program before and after launch.
Curate content to share.
Answer questions or taking suggestions.
Encourage employees to share.
Find ways to improve advocacy.
5. Launch Time
Once everything's in order, it's time to officially "launch" your program. Start gathering content for your employees to share. You want to get started on the right foot, so make sure you're giving them some of your best content to share right from the beginning.
Also keep in mind that this is new. So don't get discouraged if it doesn't take off right away.
6. Maintain the Program
The initial excitement of having an employee advocacy program won't last forever. Eventually people will start to share less frequently or stop altogether. In order to minimize drop-offs, your advocacy liaisons will need to be proactive.
Whether it's through email, an internal messaging system like Slack or other means, consistently remind your team about the program and give updates on new content to share.
Otherwise your program will slowly fade away until it's completely forgotten about.
Why Most Companies Fail
Getting employees to become advocates for your brand isn't as simple as it sounds. Despite your best efforts, you might find that things just aren't taking off the way you want. Maybe employees aren't sharing content from your blog. Or perhaps they just aren't engaging with your brand at all online. Whatever their reasoning, not everyone in your company is going to jump on board.
Oftentimes, when employee advocacy programs fail, it comes down to one of two issues:
Reason 1: Lack of Employee Engagement
If your employees don't feel engaged, it's going to be difficult to get them to become genuine advocates. According to data from Aon Hewitt, only 24% of employees were highly engaged in 2016, and 39% are moderately engaged.
While an employee advocacy program can help engagement, it's not the solution. Read our article on the importance of employee engagement to learn how to better engage your team. Here are some tips to get you started:
Don't focus solely on pay. It's a common misconception that more money equals more engagement, but that's not always the case.
Find out what your employees really want. This can vary person to person.
Establish transparency and trust. A SHRM job satisfaction and engagement surveyfound that 64% of employees rate trust between workers and senior management as very important.
Create opportunities for engagement. You want to make it easy for employees to feel engaged by doing things like offering opportunities to represent your company at events, company outings or promoting an open flow of information.
The best advocates are ones that are the most committed to your company. And that starts with engagement.
Reason 2: Poor Internal Communication
Remember what we said about choosing someone to manage your employee advocacy program? This is a major reason why it's so important. If your advocacy efforts are poorly communicated, it's extremely difficult to gain traction.
It's important to realize that internal communication doesn't mean forcing employees to participate. You just want to facilitate things and make it easy for people to get involved.
For instance, if you have an article you want your team to share, don't be demanding by setting deadlines or making it a requirement. Instead, give a brief overview of what the content is about, and let your employees decide whether or not they want to share it.
How to Improve Employee Advocacy
If you've attempted employee advocacy in the past but haven't seen success, don't worry. It's not time to throw in the towel yet.
Here are some tips on how to improve employee advocacy in your company:
Customize: There is no one-size-fits-all employee advocacy program. Learn what your employees care about the most, and create your program around that.
Make it easy: The more difficult it is for employees to advocate, the less likely they are to do it. Make information easy to find, and use tools like Bambu to streamline your process.
Send reminders: If people aren't participating in your advocacy program, it's not always just because they don't want to. Sometimes they just forget. Sending out weekly reminders of all the content available for employees to share could be just what you need to get people active.
Show appreciation: Authentic employee advocacy isn't forced. So the people that participate are doing it voluntarily. Show that you appreciate the effort they're putting forward by thanking them. According to a Psychometrics study, 58% of employees feel giving recognition is one of the best ways to improve engagement.
Don't force it: You've probably picked up on a trend here. But advocacy works best when you put the power in the hands of employees. If employees are sharing your content, but you're just not seeing good engagement, the problem could be that your program is too restrictive. Your employees know how to speak to their audience. Give them the flexibility and freedom to share when and how they'd like.
These are just some of the ways to improve your advocacy program. Identify what's not working, then brainstorm ways you can fix it.
Brands That Prove Advocacy Works
So what does employee advocacy actually look like? We've compiled a list of employee advocacy examples to help you draw inspiration. These brands have done a great job of creating genuine and authentic employee advocates. We can all learn from their lead.
Zendesk
The popular customer service software company Zendesk started utilizing the power and reach of employees to help promote content from their blog.
As a B2B software company, many of Zendesk's target customers are online. In order to help establish relationships and earn leads, Zendesk has empowered its sales team to distribute content and become looked at as thought leaders in the industry.
In addition to the added reach, getting the sales team to share content on social can also result in more leads. According to a Demand Gen report, 56% of B2B buyers use blog posts to research B2B buying decisions.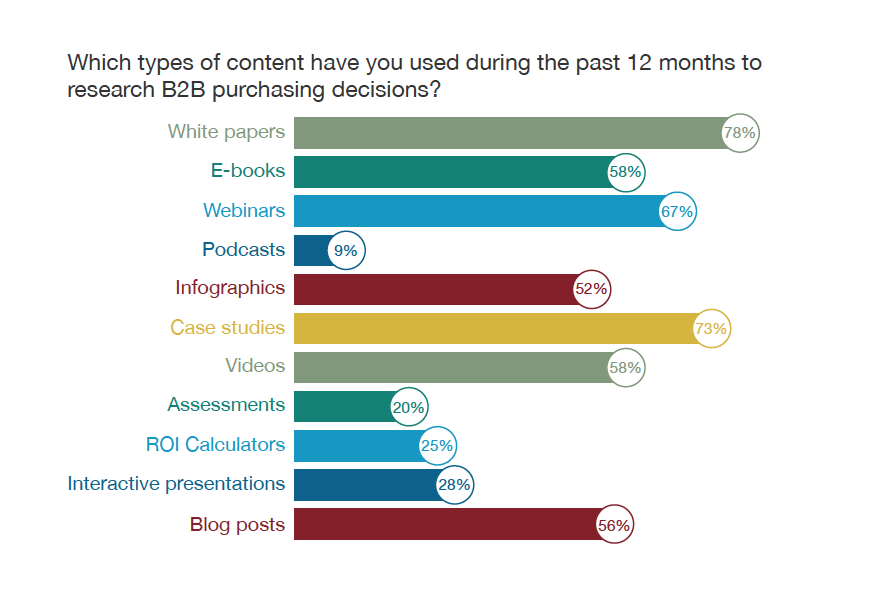 What you can learn from Zendesk's employee advocacy: Equip your customer facing employees with the tools and resources they need to advocate for your brand. It makes their jobs easier and can increase your bottom line. You can read our case study with Zendesk to learn more about the success they've had with employee advocacy.
Zappos
Zappos has become the poster child for employee satisfaction, engagement and advocacy. The company's culture has been written about in nearly every business publication you can think of. On top of that, Zappos CEO Tony Hsieh's book "Delivering Happiness" is the handbook on building a strong corporate culture and putting people first to grow your business.
One example of how Zappos promotes employee advocacy is the Inside Zappos program. The program allows the company to showcase its company culture on social media, including photos and videos of what goes on around the office.
Sometimes you don't have to outright ask employees to share content. Participating in the creation of content for your social media channels is another effective form of employee advocacy you shouldn't overlook.
Zappos also encourages employees to share photos on social media around the office, and even has a few recommended hashtags to use.
What you can learn from Zappos' employee advocacy: You don't have to wait until your company is well established to incorporate employee advocacy. Make it a building block of your company from the beginning and it'll naturally become a part of your culture.
Trello
Trello's team works remotely from all around the country. As a result, figuring out ways to embrace not only employee advocacy, but engagement is very important.
Even though the employees may work hundreds or thousands of miles away from each other, it doesn't stop the team from advocating for the brand. Trello has fun hashtags like #Trellotogether or #trelloemployeetakeover that employees use when showcasing their company pride.
And when the team does have opportunities to get together, they're happy to share photos on social media.
What you can learn from Trello's employee advocacy: Even if your team doesn't fit the "traditional" mold of a company, that doesn't mean employees can't be advocates.
Starbucks
Starbucks not only embraces employee advocacy, but they've built out an entire program for it called Starbucks Partners. Partners is how the company refers to employees.
They have an entire internal website built out for the program, as well as a social media profiles dedicated to showcasing photos and videos of partners across the globe. On the Instagram page, the company highlights employees and allows them to share information about themselves in the caption.
Additionally, partners also share photos to their personal social media profiles with the hashtag #tobeapartner.
What you can learn from Starbucks' employee advocacy: No matter how large your organization is, if employees enjoy where they work and you make advocacy a priority, they'll be happy to participate. Encourage employees to be active on social media and setup the infrastructure to make it easy for them.
Top Employee Advocacy Tools
Just like your brand uses tools for social media marketing, sales and other aspects of your business, there are employee advocacy tools that can make your efforts much easier. Here are a few of our recommendations.
Bambu
If your company is interested in building an employee advocacy program involving social media, Bambu is the perfect platform. Bambu makes it easy to curate content for your entire team to share, plus share internal messages like news and company updates, all within the same dashboard.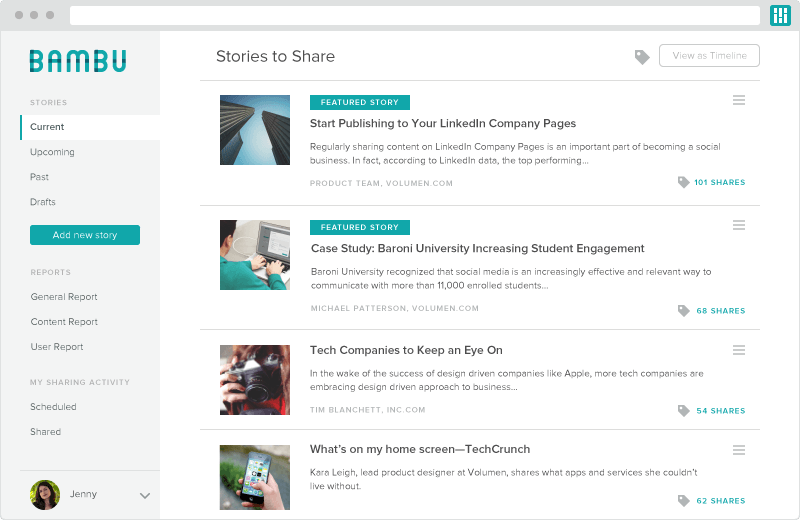 Bambu also gives you analytics to paint a picture of how well your advocacy program is going.
Check out a personalized demo of Bambu, focused on gaining exposure to new, qualified audiences by connecting your brand with the social networks of your employees.
Slack
As we mentioned, one of the most common reasons employee advocacy programs fail is a lack of internal communication. Slack is a popular messaging system for businesses that allows teams to quickly communicate with each other in real time. Plus, you can create group "channels" so individual teams can group message each other.
Bambu also integrates with Slack, which makes it even more convenient.
You can use slack in conjunction with Bambu to keep your team up to date about new content to share, upcoming events and other important updates. The more channels you have to distribute information for your advocates, the better chances you'll have of people actually participating.
Email
An oldie but goodie. Before the days of robust employee advocacy tools, email was one of the most popular ways to get information around the office and encourage employees to advocate for your brand.
Of course email is not without its flaws, which is part of the reason why tools like Bambu exist. But it can still be very helpful for advocacy.
People like to receive information in different formats. While you'll have some employees that will love to login to your advocacy platform, others are constantly in their inbox. You want to be able to reach your advocates wherever they're most likely to see your message.
Native Social Media Platforms
In addition to using advocacy tools to curate and distribute information, don't forget to be active and engage with your employees on Twitter, Facebook, LinkedIn and other platforms. That doesn't mean liking their vacation photos on Instagram. But if an employee shares a picture around the office or Tweets one of your articles, your social team could like or comment on it.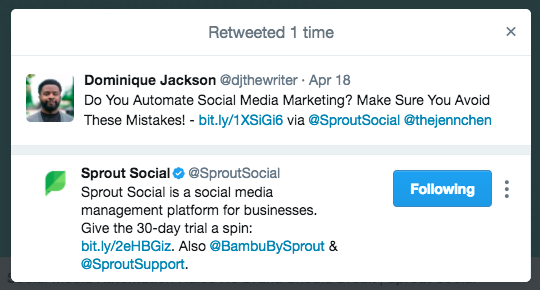 Little interactions like this shows your team that you appreciate their effort. A study from Bamboo HR found that 75% of employees that receive recognition at least once a month (even if informal) are satisfied with their job. Highlighting their advocacy on social media is a simple place to start.
How to Measure the Success of Your Advocacy Program
Having an employee advocacy program is nice. But having a program that actually produces results is even better. The question is, how do you measure employee advocacy?
There are many different metrics to track, and the ones that you focus on will be individual to your business. Some key metrics to keep an eye on are:
Conversion Rate
How many employees you've invited to the program are actually participating? You're not going to achieve a 100% adoption rate for your program, but you need to see how the number is growing or shrinking.
Active Participation
What percentage of employees are engaged and sharing on any given week? Employee advocacy needs to be a long term and consistent effort. You may have had a large chunk of your employees join in on your advocacy program initially, but what about two to three months later?
Top Contributors
Which individuals or teams are sharing the most? Which advocates are generating the most engagement? Like we mentioned earlier, recognition can go a long way toward employee satisfaction and even retention. TinyPulse found a strong correlationbetween employee recognition and retention.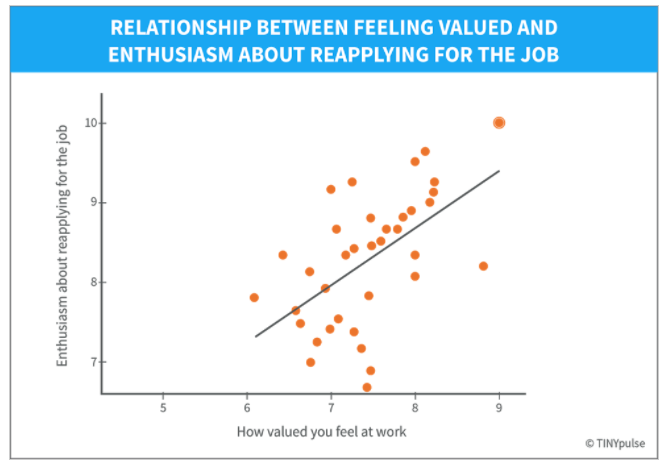 Keep track of your biggest advocates and occasionally reward them. In addition to making them feel valued, it'll also encourage other employees to be more active in order to get similar recognition.
Organic Reach
How many people are seeing the content shared through your employee advocates? As we mentioned earlier, one of the biggest benefits to using social media for employee advocacy is the ability to boost your organic reach. Monitor the reach you get through your content shared by advocacy, and compare it to your brand's social reach.
It's also helpful to look at reach per network as well as combined. That way you can see where you're reaching the most people.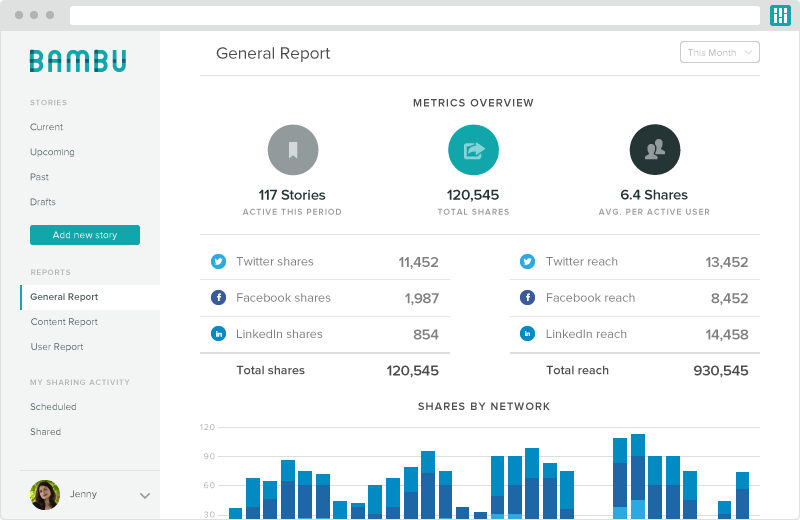 Engagement
Reaching more people is nice for spreading brand awareness, but ideally you want people to engage. Are people clicking links, leaving comments and re-sharing content from your advocates?
In addition to looking at overall engagement, measure the engagement you're getting per network. Every social media platform is unique. Content that resonates well on Facebook might not translate well to LinkedIn or Twitter.
If you notice a particular type of content is working well on Twitter, try curating more of that type of content for your advocates.
Traffic
How much traffic did the content shared by employee advocates drive to your website? In addition to getting people to see and engage with your advocate's content, you ideally want them to visit your website.
Most employee advocacy tools allow you to track and attribute traffic to your website directly from your advocates. This is important because you need to differentiate traffic from your own social media posts from traffic originating from your advocacy program.
Which Type of Content Is Shared More?
Understand what types of content themes are resonating with employees.
That way you can continue to optimize your curation tactics and make sure you're providing them with the type of content they want to share.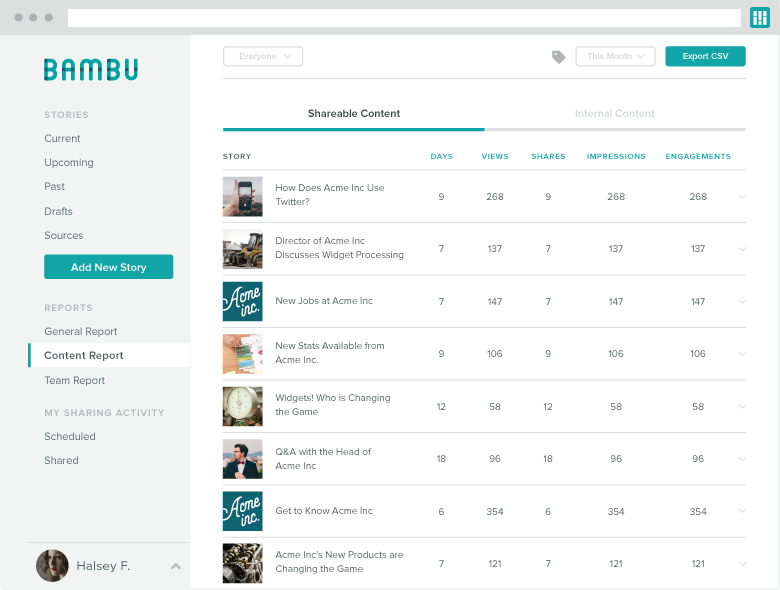 Sales
How many sales were made because of content shared by employee advocates? As the stats above show, your employees can be a great source of leads and sales. Make sure you have attribution setup so you can correctly trace sales back to your advocacy program.
Audience Growth
What percentage growth in the number of fans/followers have you had since implementation?
Measure the increase in your audience size over time from the beginning of your employee advocacy program. You can use a tool like Sprout Social to get the data.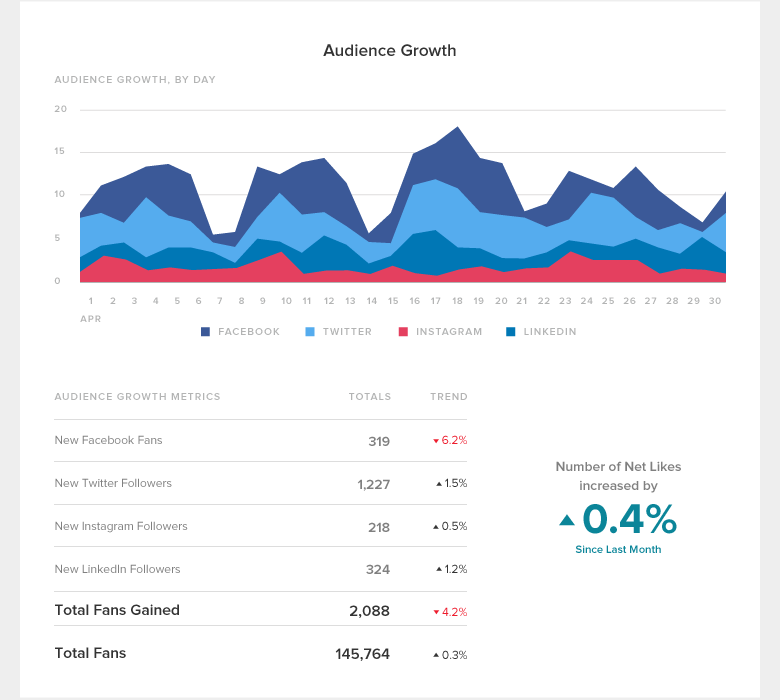 By empowering employees and utilizing the above ingredients, businesses can exponentially increase the size of their social selling channel. Employee advocacy programs can help guide employees to use both online and offline methods to drive brand awareness, generate leads, attract talent and deepen customer relationships.
Having dedicated employee advocates can mean the difference between a good company and a truly great one. What do you think is the most important part of an employee advocacy program? What impact have you seen employee advocates have on a business? Have you seen any brands that do employee advocacy well?
---
Article originally posted on Bambu: https://getbambu.com/blog/what-is-employee-advocacy/